About Moga
Moga District is the 17th District drawn on the map of Punjab State on 24th day of November 1995. Before this, Moga was the sub-division of Faridkot District. Moga town the head quarter of the District is situated on Ferozpur-Ludhiana road. Area of Dharamkot block with 150 villages has been emerged in Moga district vide. Pb. Govt. notification No. 2/36/98-R.E. 2(1) 6408 dated 5-11-99. Moga District falls under the jurisdiction of Ferozpur division. Its boundaries touch the boundaries of Jalandhar district in north, Ludhiana district in East, Sangrur in South and Faridkot & Ferozpur in West. It stretches between longitude 75 degree - 15, 75 degree - 25 east and latitude 30 degree - 35 and 31 degree 15 North. It spreads over an area on 2230 km which comes to 4.42 % of the Punjab State. The average annual rainfall of district was 234.5 mm by the year 1999.
By the provisional figures of 2001 census the Moga District ranks 11th with in Punjab with a population of about 886313, which is 3.65 percent of the total population of Punjab State. There are 887 females per thousand male in Moga district by census 2001, which is one less than found in 1991 census, that was 884. Although rate of population growth is low but the density of population has increased, which is 400 per sq. km. as compared to 351 by 1991 census. In Moga District 63.94 percent population is literate , where as the rate for male & female literacy is 68.40 & 58.96 respectively.
TEHSILS AND SUB-TEHSILS MOGA DISTRICT HAS FOUR TEHSILS AND TWO SUB-TEHSILS.
1. BAGHA PURANA
2. DHARAMKOT
3. MOGA
4. NIHAL SINGH WALA
LIST OF SUB-TEHSILS OF MOGA:
1. BADHNI KALAN
2. KOT ISE KHAN
ASSEMBLY CONSTITUENCIES IN MOGA
THERE ARE TOTAL 4 VIDHAN SABHA CONSTITUENCIES IN DISTRICT MOGA.
3. BAGHA PURANA
4. DHARAMKOT
5. MOGA
6. NIHAL SINGH WALA
DEVELOPMENT BLOCKS IN MOGA DISTRCIT
THE VILLAGES OF THE DISTRICT ARE DIVIDED INTO 5 DEVELOPMENT BLOCKS. THE LIST OF BLOCKS IS GIVEN BELOW:
1. BAGHA PURANA
2. DHARAMKOT
3. MOGA-1
4. MOGA-2
5. NIHAL SINGH WALA
MARKET COMMITTEES IN MOGA
THERE ARE TOTAL EIGHT MARKET COMMITTEES IN MOGA DISTRICT.
1. AJITWAL
2. BADHNI KALAN
3. BAGHA PURANA
4. DHARAMKOT
5. FATEHGARH PANJTUR
6. KOT ISE KHAN
7. MOGA
8. NIHAL SINGH WALA
MLA FROM MOGA IN LAST ASSEMBLY ELECTIONS HELD IN 2012, OUT OF TOTAL 4 ASSEMBLY SEATS IN MOGA, SHIROMANI AKALI DAL WON 3 SEATS AND 1 SEAT WAS WON BY CONGRESS PARTY.
NOTE: THE ONLY CONGRESS MLA, JOGINDERPAL JAIN LATER JOINED SHIROMANI AKALI DAL AND RESIGNED FROM HIS POST. HE CONTESTED THE BY-ELECTION AS A SHIROMANI AKALI DAL CANDIDATE AND ELECTED AS MLA FROM THE SAME CONSTITUENCY.
THE LIST OF MLAS FROM MOGA ELECTED IN 2012 ELECTIONS IS GIVEN BELOW:
1. MAHESHINDER SINGH IS MLA FROM BAGHA PURANA. HE BELONGS TO SAD.
2. TOTA SINGH OF SAD IS MLA FROM DHARAMKOT.
3. JOGINDERPAL JAIN OF SAD IS MLA FROM MOGA.
4. RAJWINDER KAUR BHAGIKE IS MLA FROM NIHAL SINGH WALA. SHE BELONGS TO SHIROMANI AKALI DAL.
PLACES TO VISIT
Moga district has the proud of being the birth place of Lala Lajpat Rai Ji, the great freedom fighters.His native village Dhudhike falls in Moga District. The Religious and Historical Gurdwaras, named as : Dina Sahib, Takhtupura and Lopon are located at block Nihal Singh Wala, Whereas Daroli Bhai and Chand Nawan are located in block Moga II. Geeta Bhawan a great temple is also at South of Moga City. Nestle Moga is an International level factory. This factory is as food processing Plant of its own kind in North India. Adani Agri Logistics Ltd. Base Moga Depot. Food Grains play an essentional role in nourshing the nation's populace. There fore it needs special care like proper storage and transportation for taking care these special needs, Adani Group, one of India's fastest growing business houses has setup seven Base and Field depots spread across the length and breadth of the country, coupled with specially designed top loading and bottom discharge rail wagons .The sole objective of this project is to provide comprehensive supply chain management solutions to FCI-Food Corporation of India. Meticulous planning and technology has been used to insure that the grains remain farm fresh thourghtout the entire storage and transportation process. Once keep in storage, these grains are transported to various field depot across the country, where there is a grain shortage. These field depots are fully mechanized using state of the art technology for storing food grains. Fully integrated and IT enabled operations make sure that there are no lapses in quality and quantity of grains, and transparent transactions are carried out at all stages. With ample support from government and farmers this project will surely touch lives of million of people across the country. Moga has parks known as Kashmiri Park, Nehru Park and Shahidi Park which adds to the beauty of Moga District.
DISTRICT AT A GLANCE
Area :   2209 Sq. KmsPopulation :   894854 (Census 2001 Provisional Statistics)Medical Institutions :   Civil Hospital = 1
Rural Hospitals = 2
CHC = 5
PHC = 2
Mini PHC = 18
Dispenceries = 51
Subcenter = 124Veternary Institutions :   Civil Vet Hospitals = 54
Civil Vet Dispenceries = 79Cattle Census :   Cows = 2639000
Buffalows = 6170700
Poultry = 11456800Education:   Arts, Science, Commerce & Home Science Colleges = 07
Engineering Tech. & Architecture College = 05
Government Polytechnic = 01
Teachers Training Colleges (B.Ed.) = 11
Senior Secondary Schools = 67
High Schools = 83
Middle Schools = 88
Primary Schools = 338
Pre Primary School = 01
ETT Institutes (DIET) = 01
Tech Indus. Art Craft School = 02
Aided School = 11Local Bodies:   Market Committees = 07
Rest House & Dak Bunglaws = 14
Co-op Agri Service Societies = 160
Other Co-op Societies = 418
Total Co-op Societies = 578Banking Sector:   State Bank of India = 14
State Bank of Patiala = 8
Punjab National Bank = 17
Other Commercial Banks = 86
Co-op Banks = 47
Private Banks = 9
Total Banks =161Miscellaneous :   No of Panchayats = 337
No of Post Offices = 133
No of Telegram offices = 1
No of Tel Exchanges = 38
No of STD/PCO = 887
No of Telephone Connections = 55262
No of Stadiums = 11Agricultural Area :   Irrigated Area = 196600 Hec.
Net Area = 99800 Hec.
Area Under Forest = 20.00 Sq. Km
Total %age gross cropped area to total cropped area is = 99.80%Rural Water Supply :   322 Villages in this district have been covered under water supply scheme.
Moga Personalities:
Name:
Sukhjeet Singh Kaka Lohgarh
Designation:
MLA--DHARMKOT CONSTITUENCY
Designation:
MLA BAGHAPURANA CONSTITUENCY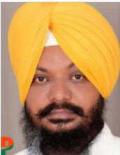 Designation:
MLA NIHAAL SINGH WALA CONSTITUENCY
Designation:
Additional Deputy Commissioner
Designation:
CHIEF AGRICULTURE OFFICER